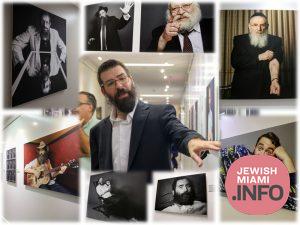 Portraits of the Jewish World Like Never Before
Chabad photographer Marko Dashev debuted his portrait photography exhibit this past week in Miami Beach, Florida, titles "PNIMI – Seeing Inward."
Last week, Wednesday night, the grand opening night was held at the Miami Beach JCC.
American Photographer, Marko Dashev, trained with the world's most famous photographers. Since 1999, his fashion and commercial photography earned him Ralph Lauren, Burberry, J Crew, DKNY and others as clients.
Starting in 2013, Marko focused on photographing and documenting outstanding individuals in the Jewish world; Rabbis, Scholars, Artists, Musicians and Personalities.
"I Looked to combine my profession with a meaningful Jewish purpose," Dashev said. "During my work for Ami Magazine's cover shoots, and while actively pursuing my first project phase, it became clear to me that my passion and mission are finally aligned."
Over fifty large prints of Marko Dashev's photographs are on display at the exhibit, covering over 600 feet of wall space. It's A Must See Experience!!
The Exhibit: "PNIMI – Seeing Inward" is on display at the Miami Beach JCC's Schwartz-Jacobs Gallery, now through May 2nd, 2022.
Address:
4221 Pine Tree Drive
Miami Beach, FL. 33140
Admission is Free
Hours:
Monday 5:30am-8:30pm
Tuesday 5:30am-8:30pm
Wednesday 5:30am-8:30pm
Thursday 5:30am-8:30pm
Friday 5:30am-5:00pm
Sunday 7:00am-5:00pm
"This series of images of Orthodox Rabbis, Personalities and Musicians by commercial and fine arts photographer Marko Dashev invites you to "See Inward," to explore what they expose about their inner essence as well as their vulnerability and strength. What can we learn about ourselves as well? Be PNIMI."