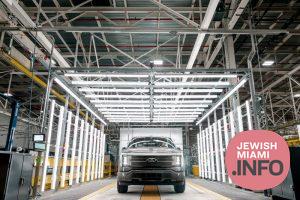 Production Begins For Ford's F-150 Lightening EV Trucks
Today marks the launch of the all-new, electric F-150 Lightning pickup – a milestone moment in America's shift to electric vehicles.
F-150 Lightning trucks are now being built for customers across America. F-150 Lightning is the fastest-accelerating F-150 yet and the only full-size electric pickup available now with a starting price less than $40,000.
Built at the ultra-modern Rouge Electric Vehicle Center within Ford's historic Rouge Complex, F-150 Lightning is the only electric vehicle that is Built Ford Tough. Ford F-Series has been America's best-selling truck for 45 years in a row[1] and is second only to the iPhone in revenue among all American consumer products, according to a 2020 study.
"Today we celebrate the Model T moment for the 21st Century at the Rouge Electric Vehicle Center," said Ford Executive Chair Bill Ford. "The Rouge is where Ford perfected the moving assembly line, making it a fitting backdrop as we make history again. The stunning anticipation for F-150 Lightning is a credit to the work of our Ford engineers and designers, and the UAW team members who are building these trucks with pride."
Ford has unprecedented demand for F-150 Lightning with 200,000 reservations and is expanding the Rouge Electric Vehicle Center to ramp up production to a planned annual run rate of 150,000 in 2023. The company has invested a total of $950 million and created 750 jobs at the Rouge Electric Vehicle Center. Ford's investment in Michigan for F-150 Lightning alone now totals more than $1 billion, with 1,700 recently created jobs spread among five Ford plants in the state, including Van Dyke Electric Powertrain Center, where Lightning electric motors and electric transaxles are assembled, and Rawsonville Components Plant, where Lightning batteries are assembled.