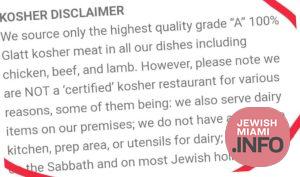 PSA: Check The Hechsher, Uber Eats Kosher Section Has Unkosher Eateries
by JewishMiami.info
Just because it says it's kosher does not make it so. It's not a new concept, but in the age of online ordering, you have to be especially careful.
Multiple eateries located under the Kosher search of Uber eats are not kosher, and the stores themselves even say so.
An example of Uber Eats Kosher labeled eateries that are not kosher is Motek Cafe. Motek goes so far as to even write a disclaimer on their Uber Eats profile saying that although their meats are kosher, their kitchen is most definitely not.
Jewish South Florida residents and guests are advised to check each restaurants Kosher certification before ordering from them.
Below is a partial list of Kosher food locations in South Florida Courtesy of Food Yenta: