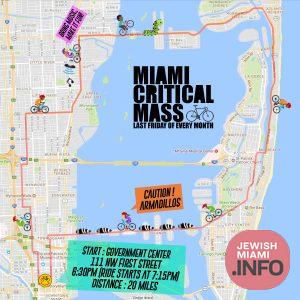 PSA: Erev Shabbos Road Closures For Miami Critical Mass Bike Race
by JewishMiami.info
The Miami Critical Mass Bike ride will be taking place today, Friday, August 26th, shutting down some routes through the Miami area. The ride starts at 7:15pm and closures will continue with the riders.
The ride will be going through Historic Overtown, Wynwood, Little Haiti, Upper East Side, North Bay Village, North Beach, Miami Beach, Venetian Islands, and Downtown. Total distance is approximately 20 miles.
This ride will not be returning to Miami Beach until March or April 2023 !