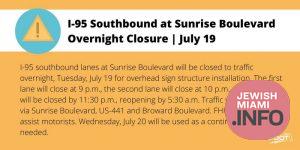 PSA: I-95 Overnight Closures For Construction
by JewishMiami.info
The Florida DOT is reminding residents of South East Florida of an expected closure that will likely affect overnight travelers on the I-95.
Tonight, Tuesday, July 19th, the DOT will be closing all Southbound lanes of traffic on the I-95 overnight as they install overhead sign structures.
According to the DOT notification, the first lane from the stretchy of highway beginning at Sunrise Boulevard and going to Broward Boulevard will be closed by 9:00pm, the second by 10:00pm, and all lanes by 11:30pm. They will reopen at 5:30am.
The work is being done as part of a larger $153 million project meant to expand express lanes on the highway