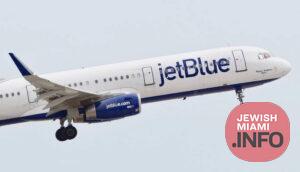 Hatzalah of South Florida Volunteer Makes The News After Assisting In Medical Emergency On A Plane
by Monsey.info
These lifesaving volunteers do it ever day, but every once in a while, it makes the news.
A Hatzalah of South Florida volunteer flying on JetBlue from New York to Florida found himself in the middle of a medical emergency, when a female passenger on the plane fainted in the aisle.
Initially unsure of the patients condition, the pilot was thinking to make an emergency landing before the volunteer stepped in.
According to reports from Fox News, the volunteer was able to step in and ensure that the woman was stable, allowing the flight to proceed to Fort Lauderdale International Airport. Once landed, an ambulance was on hand to take the woman to a hospital.
A fellow passenger on the plane captured the moment in a single image, a picture that has gone viral across news outlets.
"Thank you to the staff of @jetblue flight 571 and Hasidic superstar EMT for saving a woman's life at 36000 feet," nycphotog wrote on Twitter. "You're all awesome. This is an ongoing situation en route to FLL- Florida."
After the story broke, Rabbi Yehiel Kalish the CEO of Chevra Hatzalah, noted on Twitter that "In our system he's known as W18 @hatzalah. This excellent member is a volunteer in NYC, South Florida and Monsey."
Incidents such as these are actually quite common, but rarely do they make the news.