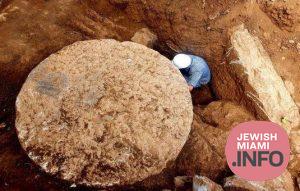 Roman Era Pillar Unearthed In The Foothills of Mount Hermon
An Israel Antiquities Authority archaeological team was sent to 'Ein Qiniyye, a Druze village in the southern foothills of Mount Hermon, to examine a plot designated for a school complex.
The archaeological excavations near the Sa'ar stream, exposed a massive Roman-period column base, 190 cm in diameter and 80 cm high.
This unique column base was totally different from contemporary local architecture, being carved out of limestone, while most architectural elements were made of basalt. This column may have been brought from a distance, yet its purpose is not clear.
Previous excavations at the site revealed settlement remains from the Roman era, including remains of walls, stone pavements and an aqueduct supplying water to the site. In addition, ancient tools and a clay oil lamp were found. Archaeologists consider that the structure with the huge column base may have functioned as a gristmill or for other agricultural processing activities in the Roman period.
The vicinity of the archaeological remains was an attractive location for settlements in the Bronze Ages, the Hellenistic, Roman and Byzantine periods, and again in the Mamluk period, thanks to the many springs and sweet water habitats.
Photos: Tzviki Badichi, Aniya Kliner, IAA