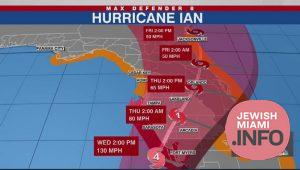 Rosh Hashana Under Threat In Fort Myers, FL
by JewishMiami.info
When only one person showed up to the Kabbala/Chasidus class at 9:00am at the Chabad of Southwest Florida, the Chabad Shliach, Rabbi Yitzchok Minkowitz, knew something was wrong.
"On Rosh Hashana Hurricane Ian took a turn towards our Community in Fort Myers, Florida," Rabbi Minkowicz said. "Our Chabad will be opening its doors this morning at 10:00 am to Shelter people in our community."
As the Jewish community was celebrating Rosh Hashana, cut off from their cell phones and updates, the government issued a mandatory evacuation for the Fort Myers area, however by the time Yom Tov was over and the community got word, it was passed the time that they were able to leave. The airports closed at 9:00pm and all Grocery stores and business as well schools had already closed.
Despite this, members of the Jewish community had come out as they could over the second day of Rosh Hashana, pulling together a Minyon for Musaf and even walking through the rain for Maariv.
With the Category 4 Hurricane expected to make landfall around 12:00pm – 2:00pm, Rabbi Minkowitz is planning on hunkering down.
"We are requesting for all to add in Torah, Prayer & Charity for our safety," he said.