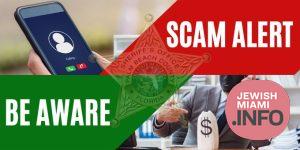 SCAM ALERT: Bail Bonds Scam Taking Place In Palm Beach
by JewishMiami.info
A bail bond scammer is working overtime in Palm Beach County impersonating Palm Beach officers and attempting to scam victims of thousands of dollars.
"There's an imposter calling victims telling them that a family member is in custody with a $10,000 bond," the Palm Beach Sheriffs Office wrote in a Press Release. "Then they email them a pre-filled AO99 Appearance Bond from the court system from the email address palmbeachcounty.gov@gmail.com, this is NOT a PBSO email!"
This is a SCAM!
"We don't call or email asking for bond money or any personal information. If you receive a call or email like this or any other scam, hang up and call the Palm Beach County Sheriff's Office non-emergency number at 561-688-3400 or the nearest law enforcement agency," the office explained.
The bail bond scam is hardly new, and primarily targets the vulnerable such as the elderly.