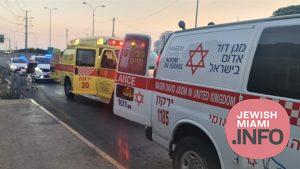 Illustration Image
Stabbing Attack in Central Israel Leaves Man Moderately Wounded
One person was wounded in a stabbing in central Israel Tuesday morning.
The incident occurred on a pedestrian bridge over Highway 4 near Givat Shmuel, as a 47-year-old haredi yeshiva student was on his way to Bnei Brak.
According to the victim's statement to police, an Arab man suddenly stabbed him as the victim was walking across the bridge. The assailant then quickly fled the scene.
Read More at israelnationalnews