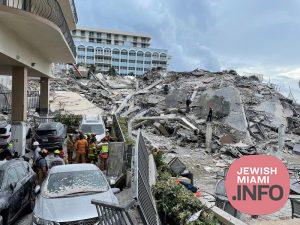 Stamp of Apporval Given For $1 Billion Surfside Collapse Settlement
by JewishMiami.info
The final approval was given Thursday for the $1 Billion settlement over the collapse of the Champlain Tower in Surfside last year.
Miami-Dade Circuit Judge Michael Hanzman gave the stamp of approval saying ""It will never be enough to compensate them for the tragic loss they have suffered. This settlement is the best we can do. It's a remarkable result. It is extraordinary."
According to a report from the Associated Press, the bulk of the $1.02 billion total will go to people who lost family members in the collapse. About $100 million is earmarked for legal fees, and $96 million set aside for owners who lost one of the 136 units in the building.