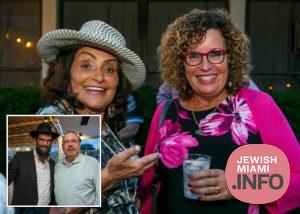 Sukkah Social at Chabad of Palm Beach Gardens
A popular Jewish saying states that "when there is space in the heart, there is space in the home."
The entire membership of Chabad of Palm Beach Gardens were welcomed to experience the first night of Sukkos at the Vigler family Sukkah on October 9, 2022. Hundreds of guests were able to enjoy a most intimate dinner in the garden behind the Vigler home where everyone was able to experience the Mitzvah of eating in a Sukkah. The Torah obligation of Sukkos is primarily relevant on the first night of the festival. Since few people are able to have their own Sukkah, the Viglers invited the entire community to their home for an opportunity to celebrate the Mitzvah exactly the way that G-d instructed us to in the Torah.
The evening began with a sunset evening service in the Vigler family garden. Thereafter, Rabbi Dovid and Chana Vigler invited the community to squeeze into the Sukkah for the Festival Kiddush and Hamotzei blessings.
Rabbi Vigler asked the large crowd when was the last time that they "sweated over a Mitzvah".
He explained that the Mitzvah of Sukkos is to step piutside of our comfort zones as we "sweat bullets" in fulfillment of G-d's request. This message inspired the community to enjoy evewry minute of the event, despite the lack of air conditioning in the great outdoors!
The drinks flowed freely in the open bar as members of the Shul were able to mix and mingle while dining over the corned beef and chicken stations, salmon and fish bar and salad bar and other delicious treats. 
Despite the inclement weather forecast, the very large crowd defied the rainy projections and indeed, experienced a completely dry evening in the Sukkah under the stars.
The rain began to pour only much later in the evening when the party was drawing to a close!
Nevertheless, a crowd gathered around the dining room table in the Sukkah for an intimate farbrengen, in which they spoke about the meditations of the Sukkah and how they remind us to be grateful to G-d for the blessings He has bestowed upon us.