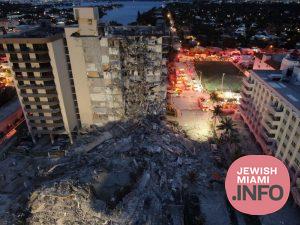 Surfside Condo Collapse Trial To Take Place No Later Than March 2023
by JewishMiami.info
Miami-Dade Circuit Judge Michael Hanzman was very firm, the trial over the Surfside condo collapse would be going to trial no later than March of 2023.
"That is a firm deadline, ladies and gentlemen," Hanzman said Wednesday during a hearing held virtually. "This case will be going to trial in March 2023."
The complicated case leans on multiple parties, including victims, their families, insurance companies and others, making for the possibility for extended delays.
98 people died in the 12 story condo collapse, including many Jewish residents.
According to the Associated Press, the main lawsuit claims that work on the neighboring condo building was the primary cause of the collapse.