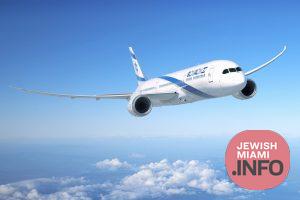 Taking Advantage Of American's Surrender, El Al Will Launch Fort Lauderdale Service And Expand Miami Flights To Israel
by Daniel Eleff – DansDeals
One of the many items that I advised to new El Al ownership and both of their CEOs in person was that Fort Lauderdale is far more accessible than Miami for much of the local traffic flying to Tel Aviv. Thanks to American, El Al will be able to serve both airports.
In what has become a bizarre pattern for American, the airline called their Miami-Tel Aviv successful and increased their flights from 3 per week to daily last October. Just 2 months later they cancelled the route completely. That was reminiscent of their abrupt departure from the Tel Aviv market in 2016 after calling the route highly successful.
El Al has told DansDeals that Miami has been a successful route launch, so it's no surprise that they will take advantage of the void left by American.
Effective 5/25, they will increase from 5 to 6 weekly flights between Miami and Tel Aviv, adding Saturday evening flights at 11:30pm from Miami.
For the high holiday season, the airline will launch seasonal nonstop 787-8 service between Fort Lauderdale and Tel Aviv, with flights operating on September 13, 20, 27, and October 5, 10, and 12.
Starting in Spring 2024 the airline will launch year-round nonstop service between Fort Lauderdale and Tel Aviv, in addition to their Miami to Tel Aviv service. That exact schedule has yet to be announced.
I am somewhat surprised that they don't just increase the number of daily flights and consolidate from one South Florida airport to lower their operational costs. There aren't many airlines that successfully operate across the Atlantic to both Fort Lauderdale and Miami, located just 26 miles away from each other, but El Al clearly sees the traffic and opportunity to try to pull off service from both airports. It works from JFK and Newark, after all.
Or is this just a real world test to see which airport performs better?
Do you think El Al will be able to sustain nonstop service to both Fort Lauderdale and Miami?