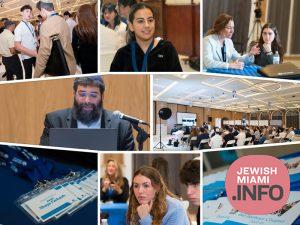 Teens Hear From Guest Speakers At Bal Harbor Solomon Leadership Program
The Solomon Leadership Program's Bal Harbor Chapter met this past week where teenagers heard from multiple speakers and joined interactive skill drills providing insight to important leadership knowledge.
The event took place the Bal Harbor Shul, known locally as just The Shul.
The Solomon Leadership Program selects a diverse body of teenagers who volunteer in their local community or otherwise demonstrate their future leadership potential.
Through Solomon's multi-dimensional program, students, known as Fellows within the program, grow to understand their personal value and potential as leaders. Our curated curriculum, successful mentor role-models, and inspiring renowned guest speakers give participants a broad perspective on leadership and success. This enables Fellows to envision themselves as future leaders, giving them the motivation to pursue their goals on their leadership journey.
Their three-prong approach centers around the Eight Pillars of Leadership, the eight skills and values that are essential to being an effective, moral, and just leader. Each session focuses in depth on a single Pillar, giving Fellows a comprehensive understanding of both its essence and its application in real life.