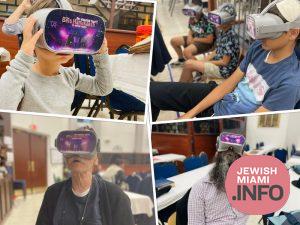 The Beis Hamikdash in VR Visits Chabad of Inverrary on Tisha B'Av
by JewishMiami.info
Seeing the Beis Hamikdash like never before.
Members of Chabad of Inverrary were given an incredible virtual reality view of the Beis Hamikdash Tisha B'Av afternoon.
Mikdash VR, a program that uses VR to teach about the Beis Hamikdash, gave the attendees a half hour immersive view of the Temples courtyards, chambers, and halls.
The VR experience included seeing the Levites singing, the service of the Priestly Kohanim, and the Kodesh Hakadashim, all in a riveting, enriching format.