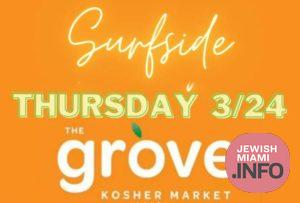 The Grove In Surfside To Reopen This Week
by JewishMiami.info
After an extended closure for renovations, The Grove in Surfside will be reopening its doors this Thursday.
The news was shared on The Grove's Social Media accounts, where they wrote to "Start spreading the news", and that the reopening will take place on Thursday March 24th.
The Grove Surfside, located at 9467 Harding Avenue, includes a full kosher supermarket, butcher on premises, deli, prepared foods and shabbos meals under the Miami Kosher certification.