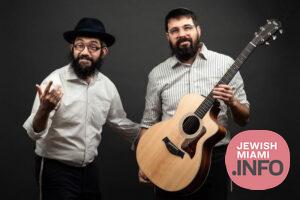 The Jew Project: 8th Day, Shmuel and Bentzion Marcus
The Jew Project, created by photographer Yisroel Teitelbaum aims to unify the Jewish people through documenting the lives of individuals. To read more on The Jew Project: Click Here
An American Hasidic pop rock band based in Los Alamitos, California in 2004 by brothers Shmuel and Bentzion Marcus, the group gained popularity in the Jewish music scene with their album Chasing Prophecy (2011) and its lead single, "Ya'alili", whose video became a minor viral hit on YouTube. As of 2021, the group has released nine studio albums and one live album. They have performed at venues throughout the country and abroad including Lincoln Center for the Performing Arts, American Airlines Arena, and Universal CityWalk.
8th Day's sound, though primarily inspired by traditional Jewish music, also contains influences from secular styles such as power pop, blues, and reggae. Guitarist Bentzi Marcus has described the group as a "very eclectic, klezmer-funk-rock band", noting that "each song stands on its own. The style of songs range from Middle Eastern, rock, folk/country, jazz/blues. It's got everything."
The Marcus brothers are members of the Orthodox Music's Royal Family, being brothers to Eli Marcus @elimarcusmusic, first cousins to Benny Friedman @bennysmusic and @simchefriedman, who are all collective nephews of the great Avraham Fried @avrahamfried_official.