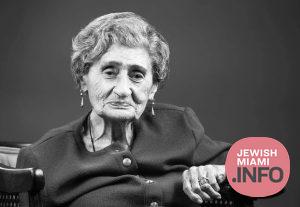 The Jew Project: Mira Rosenblatt, A Holocaust Survivor Who Escaped While On The Death March in 1945
The Jew Project, created by photographer Yisroel Teitelbaum aims to unify the Jewish people through documenting the lives of individuals. To read more on The Jew Project: Click Here
Mira Rosenblatt, a Holocaust survivor, was born in 1928 in Sosnowiec, Poland. Her family was part of a large extended Orthodox Jewish family that had lived in Sosnowiec since the 1880's.
On Monday Sept 4, 1939, her life changed forever when the Nazis marched into her city. Her family was forced into a ghetto where Mira worked 12 hours a day. On August 12, 1942, Mira was deported and became a slave laborer at Grunberg, part of the Gross Rosen concentration camp system, until the Death March on January 29, 1945.
Mira escaped from the Death March, fleeing into the forest and then a farm, disguised as a Polish girl.
In August 1945, she was rescued by her future husband, Henry Rosenblatt, a fellow survivor of several concentration camps including Auschwitz and Blechhammer.
The only family that survived were Mira's two brothers who had escaped to Russia. Their parents and all their siblings, nieces, nephews, aunts and uncles, had been murdered.
The Rosenblatt's emigrated to the US in 1951. They first lived in Washington Heights, then Springfield, MA and finally to Brooklyn, NY, where Mira still lives today.
Mira has a wonderful loving family with grandchildren and great grandchildren. She has suffered additional tragedies, with the loss of her beloved husband in 2017 after 72 years of marriage, and the deaths of her first born, Helena at 22 months in 1950, and her only son, Melvin at 60 years of age in 2019.
Mira believes she survived so she could share her story and has always talked about her experiences during the Holocaust. Last year, she published "Strength: My Memoirs", accomplishing her lifelong goal.
Mira is a strong person who loves people and says, "There are good people and there are bad people and you never know who is going to be which…" Her signature goodbye to all, is "Be well and I wish you a beautiful future."