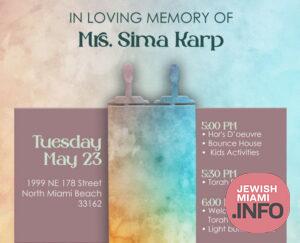 The Karp Family To Welcome New Sefer Torah In North Miami Beach
by JewishMiami.info
The Karp family has invited the community to join them in welcoming a new Sefer Torah to Chabad of NMB East in memory of Mrs. Sima Karp OBM.
The Hachnasas Sefer Torah will take place on Tuesday, May 23rd, at 1999 NE 178th Street in North Miami Beach.
The event will include the completion and welcoming of the Sefer Toah, as well as activities for children.
The Torah procession will take place at approximately 5:30pm.