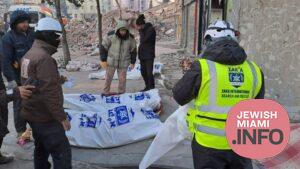 Three Days After Quake, Bodies of Jewish Community Leader and Wife Recovered
A complex rescue attempt undertaken by IDF and ZAKA teams finally resulted in the recovery of the bodies of Shaul and Fortuna Janudi, the president of the Antakya Jewish community and his wife.
Simply reaching the disaster-struck region in southeastern Turkey proved hugely challenging given the state of the roads, but the teams finally reached there on Wednesday evening. The couple had been not been seen, nor had any sign of life been received from them, since their home collapsed following the first of two deadly earthquakes earlier this week.
After extended efforts, the bodies of the couple were located. The rescue workers worked intensively in harsh conditions for many hours to extract them; tragically, they were both dead when found.
Read More at israelnationalnews