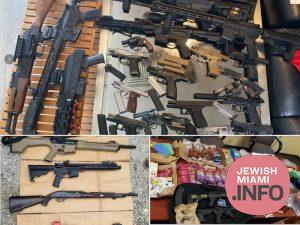 Three Dozen Guns and Drugs Seized In Gang Related Arrest
The Broward Sheriff's Office Gang Investigations Task Force arrested an Oakland Park man on Wednesday suspected of distributing large quantities of firearms and narcotics to known gang members in Broward County.
Detectives arrested Brett Valley on several criminal charges, including armed trafficking of oxycodone and the sale, manufacture or delivery of cannabis. The investigation began earlier this year after investigators received information regarding crimes Valley is suspected of committing. Using undercover techniques, detectives methodically built a criminal case against Valley, which resulted in his arrest on Wednesday and serving multiple search warrants.
As a result of the search warrants, detectives recovered three dozen firearms and drugs including oxycodone, cocaine, ecstasy, cannabis and other narcotics.
BSO's Organized Crime Unit participated in the investigation, which is ongoing. The Bureau of Alcohol, Tobacco, Firearms and Explosives and Homeland Security Investigations also participated in the investigation.