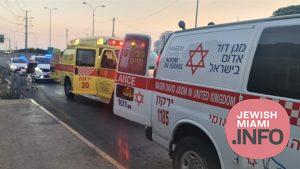 Illustration Image
Three People Murdered, and Four Injured In Samaria Terror Attack
Three people were killed and four more wounded in a stabbing attack at three separate locations in and around the Israeli city of Ariel in Samaria Tuesday morning.
IDF paramedics, along with MDA and United Hatzalah personnel, treated the victims at the scene before evacuating them to Beilinson Medical Center in Petah Tikva via ambulance.
One of the victims, a man in his forties, was critically wounded and later succumbed to his wounds. A second man of approximately the same age who was wounded at the gas station, was initially listed in serious condition, and also succumbed to his wounds.
Read More at israelnationalnews