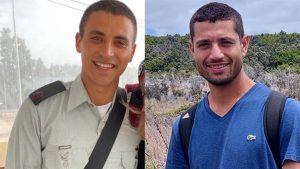 Two IDF Officers Killed in Friendly Fire Incident Near Base in Jordan Valley
Two IDF officers were killed overnight Wednesday during security-related operations near an IDF base in the Jordan Valley.
The officers have been identified as Major Ofek Aharon, 28, from Gan Yavneh; and Major Itamar Elharar, 26, from Bnei Re'em. Both of them were company commanders in the IDF's Egoz Unit.
Read More at israelnationalnews