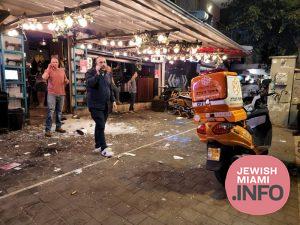 Two Killed as Gunman Opens Fire on Busy Tel Aviv Bar in Latest Attack
The Algemeiner and CrownHeights.info
Two people were killed and at least eight injured after a suspected terrorist on Thursday evening opened fire at a bar located along one of the busiest nightlife streets in the heart of Tel Aviv, marking the fourth deadly attack in less than a month.
Magen David Adom paramedics reported that two of the shooting victims in their 30s were rushed to a Tel Aviv hospital while undergoing resuscitation, before their deaths were determined. Another eight victims are being treated at a number of Tel Aviv hospitals, including three in their 20s and 30s seriously injured from gunshot wounds, and four in light to moderate condition with limb injuries.
An update from MDA:
Update to the terror attack in Tel Aviv: MDA EMTs and Paramedics treated and conveyed 9 patients to Ichilov, Sheba Tel Hashomer and Wolfson Hospitals.
2 males approximately 30 years old were conveyed to Ichilov while undergoing resuscitation. Following further medical efforts they were pronounced dead at the hospital.
3 seriously injured – 38 year old male, 28 year old female, and a 20 year old male were conveyed to Ichilov hospital with gunshot wounds.
4 with mild injuries, including a 30 year old male with gunshot wounds to Tel Hashomer, a 30 year old male to Ichilov Hospital and 2 others to Wolfson Hospital with limb injuries.
MDA Blood Services provided 145 units of blood and blood components to Ichilov Hospital.