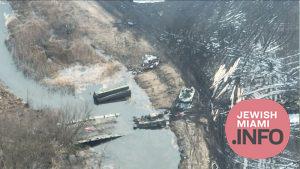 (UPDATED 2:47PM) Little Change In the War As Russia Turns To Shelling and Airstrikes To Demoralize
by JewishMiami.info
Russian President Putin announced the invasion of Ukraine on February 24th, and immediately followed it with action. The following is a summary of incidents, numbers and breaking news on the war.
This article will be updated throughout the day as information becomes available.
2:47pm: Russia claims it killed 180 'foreign mercenaries' in missile strike on Yavoriv military training ground in western Ukraine. The Russian government added that it will continue to kill foreign nationals in Ukraine whom it considers mercenaries.
2:46pm: Over 2,100 Mariupol Ukraine residents killed since invasion began.
2:45pm: As per the Russian Finance Minister, as result of the sanctions, foreign exchange reserves of 300 billion dollars, which constitute almost half of Russia's reserves, were frozen.
12:00pm: General Update:
The ground war in Ukraine has continued at a snails pace, with Ukrainian resistance keeping Russia's gains to a minimum. Video from the front shows that some of the fighting is bogged down in trench warfare, a dangerous and costly battle method for static battle lines.
Russian airstrike hits military base in western Ukraine, kills 35 servicemen.
Instagram is latest social media platform to leave Russia.
In the southern Ukrainian city of Mykolaiv, near the Black Sea, authorities reported nine people killed in bombings.
The U.S. announced plans to provide another $200 million to Ukraine for weapons.
Zelenskyy reported Saturday that 1,300 Ukrainian soldiers had died since the Russian invasion began Feb. 24.
A New York Times reporter was shot dead by Russian forces in Irpen, Ukraine Sunday, the Kyiv Times reported, and another journalist was wounded.
For earlier updates: Click Here