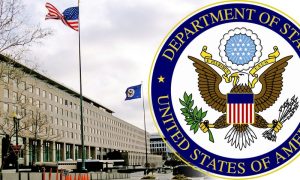 US Citizens Warned Not to Travel To Russia As Ukraine Tensions Mount
by Monsey.info
The Us State Department has issued an alert warning US citizens against traveling to Russia, upgrading its travel warning Level 4, Do Not Travel.
"Do not travel to Russia due to ongoing tension along the border with Ukraine, the potential for harassment against US citizens, the embassy's limited ability to assist US citizens in Russia, COVID-19 and related entry restrictions, terrorism, harassment by Russian government security officials, and the arbitrary enforcement of local law," the warning says. "Due to Russia's heightened military presence and ongoing military exercises along the border region with Ukraine, US citizens located in or considering travel to the districts of the Russian Federation immediately bordering Ukraine should be aware that the situation along the border is unpredictable and there is heightened tension. Given the on-going volatility of the situation, US citizens are strongly advised against traveling by land from Russia to Ukraine through this region. In addition, there is the potential throughout Russia of harassment towards foreigners, including through regulations targeted specifically against foreigners."
US Embassy staff in Ukraine received partial orders to evacuate the country this past week, further highlighting the volatile situation.
Reports indicate that the US response to a potential invasion of Ukraine by Russia remains in question, with the US considering a military deployment to the country.