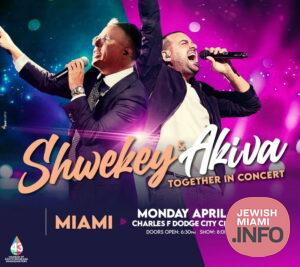 VIP Tickets Selling Out Fast For Shwekey – Akiva Miami Pesach Concert
On Monday night, April 10, Chol HaMoed Pesach, Chabad of South Broward invites you to TWO MEGA HAKHEL EVENTS AND CONCERTS IN ONE!
The concert is planned to the highest standards, with world-class production creating an immersive and one-of-a-kind experience. The evening promises to be a night of joy, laughter, and deep heartfelt emotions that cannot be denied. Akiva and Shwekey, VIP seats are quickly selling out, so it is highly recommended VIP seats are purchased TODAY! Major sponsors of this TWO IN ONE MEGA HAKHEL AND CONCERT are invited to join AKIVA AND SHWEKEY for a memorable MEET AND GREET!
Akiva, an accomplished Israeli singer, and songwriter is no doubt a rising star on the "Religious Rock" front, with millions of youtube followers and an ever-growing crowd of loyal fans from a wide range of ages and backgrounds. Akiva first burst into our hearts in 2019 with huge hits such as "Al Ta'Azvi" and "Pshutim", followed by the national hit "Yesh Bach HaKol" and "Shleimim" – which was chosen as Song of the Year 2020. Akiva's concert experience is like recharging a battery to your soul – a music festival that incorporates joy and laughter alongside deep heartfelt emotions that cannot be denied.
Akiva's unique style seamlessly blends religious rock and contemporary influences, and his concert experience is like recharging a battery to your soul.
Yaakov Shwekey is a celebrated American-Israeli singer and performer, and is known for his powerful and dynamic performances that have captivated audiences worldwide. He is one of the most universally celebrated Jewish singers of his time, arriving on the scene as a solo artist in 2001 and captivating the hearts of multilingual audiences with numerous hits reaching number one on global billboard lists.
Shwekey's unique style combines traditional Jewish melodies with contemporary influences, creating a sound that appeals to both traditional and modern music lovers with hits like "Im Eshkachech", Vehi Sheamda" and "Aish" being requested on live radio shows and private events in record numbers alongside his "Musica" album which debuted at number three on The Billboard World Album chart.
With hit songs such as "Im Eshkachech", "Vehi Sheamda", and "Aish" reaching number one on global billboard lists, Yaakov's music has taken the Jewish music world by storm. His performances have been described as "heart-pulling" and "soul-stirring", leaving audiences in awe.
Recognized for his passion and range, the Shwekey Sound has been described as "heart-pulling and soul-stirring". Known for powerful and dynamic performances, Yaakov Shwekey attracts crowds from every corner of Europe, North and South America, Israel and beyond.
This two in one Hakhel event and concert in South Florida Chol Hamoed Pesach April 10th. VIP tickets are available at Chabad of South Broward. You and your family are entitled to the best seats in the house and VIP seats are selling out fast.
Most tickets are available on Ticketmaster.com. Some tickets, for VIP's, will exclusively be available via Chabad of South Broward. The two in one Mega HAKHEL & CONCERT, will take place at the Charles F. Dodge Theater in Pembroke Pines, 601 City Ctr Way, Pembroke Pines, FL 33025. Doors open at 6:30PM, Concert begins at 8:00PM.
Don't miss this opportunity to see two of Jewish music's most renowned performers for a special night of music.
To purchase VIP tickets and/or to become a major sponsor for this Mega Hakhel Event, please call 954-458-1877, email chabadsboffice@gmail.com or log on to: chabadsouthbroward.com/concert or Pesach Concert – ChabadSouthBroward.com