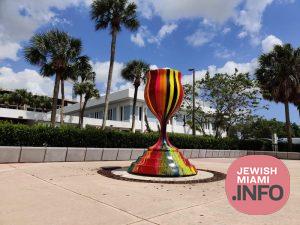 Vote Opens To Make Jewish Art In Coral Springs Permanent
As part of a city program, residents of Coral Springs and those traveling through the city can help pick the city's next permanent public art piece. On the list for permanent status is an "Overflowing Cup of Blessings" by Jewish artist Yitzchak Moully.
At present, there are four sculptures on display through June 2022 along Sample Road and the ArtWalk as part of the city's Public Art program. Residents are encouraged to vote for their favorite piece on the city's website. The sculpture with the most votes will be presented to the Public Art Committee as a recommendation for purchase by the city for display in a public location.
The Jewish piece of art, named "Overflowing Blessings" is listed under it's creater Rabbi Yitzchok Moully and is presently on dsiplay at The ArtWalk.
Standing at 8' x 6' x 6', the Judaism inspired "Overflowing Blessings" celebrates collective gratitude. Every layer of color poured into the Cup of Blessings represents one person's gratitude. The complete sculpture is a visualization of gratefulness and a monument to the positive aspects of life.
The city's artwork collection includes permanently sited and integrated works which are commissioned through a public process. The city stewards and maintains the artwork through an ongoing program of coordinated conservation activities, which include inspections, major restorative work, and routine maintenance.
No tax dollars go toward purchasing of the public art in Coral Springs. All financing comes from a fee charged to developers who have projects larger than 12,500 square feet. Developers may contribute to the Public Art Fund or purchase an artwork to display on their property in accordance with Chapter 6 of the city's Land Development Code.
To vote on the Coral Springs Public Art, visit CoralSprings.org/PublicArt and click Vote. You will then be directed to a form to complete. No ID or personal information is required to vote.