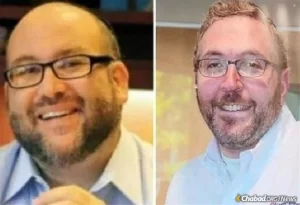 Westchester Plane-Crash Victims Mainstays of Cleveland Jewish Community
by Mendel Super – chabad.org
A tragic plane crash on Jan. 19 in Westchester, N.Y., took the lives of two esteemed members of the Cleveland Jewish community: Boruch Taub, 40, who was piloting the plane; and Ben Chafetz, 45, the sole passenger of the single-engine Beechcraft A36.
The two were returning in the evening from a funeral in New York when Taub reported engine trouble to air-traffic control after the plane had just taken off from New York's John F. Kennedy International Airport. Declaring a "Mayday," Taub attempted to make an emergency landing at Westchester County Airport, but the plane crashed into a wooded area two miles from the airport.
Taub and Chafetz were described as "pillars of the community," and Chafetz's kind-heartedness and generosity were known far beyond Ohio. Taub, a father of five, owned an auto-repair shop and was praised for his outstanding honesty and business integrity by friends and acquaintances. "He was extremely careful in business and always kind and accommodating," Avrumy Fergusson, a friend of Taub, told Chabad.org.
Fergusson recalls how Taub recently donated towards the writing of a new Torah scroll at their synagogue. "He had money set aside for a lawsuit to sue someone, but then he decided to let it go and donate the money for a good cause," says Fergusson. An experienced pilot, Taub was "very passionate" about flying and "loved to share the beauty of flight and the open skies with people," he added, noting that Taub gave him a ride to Chicago just two months ago.
Chafetz, a tech entrepreneur who grew up in the Chabad community of Worcester, Mass., forged close ties with Chabad emissaries during his business travels. Rabbi Tzvi Rivkin, formerly the Chabad emissary in Bangalore, India, was devastated at the news. "Ben was a very special, caring friend—a brother," he told Chabad.org. "We spoke very often. This is horrible to hear; baruch dayan haemet ('blessed be the true Judge'). Ben came to India every six months, and every time before coming, he would call and ask what he could bring. He came with huge suitcases of food and other goods for us and the community."
When El Al Flight LY02 was stranded in Athens, Greece, hours before Shabbat in 2018 with 150 Shabbat observant passengers on board, including Chafetz, Chabad-Lubavitch of Athens arranged food and accommodations for the group, and they had what Chafetz later described as "a beautiful Shabbos … beyond anything I could have imagined." Chafetz and many of the passengers stayed in touch with Rabbi Mendel and Nechama Hendel, and in 2022, Chafetz was instrumental in helping Chabad open a new mikvah in Athens.
"Ben was very involved in the campaign to build the mikvah and helped spread the word. He took a personal interest in it. He was a very special person, a person of action. He really cared. This is very shocking and tragic," Hendel told Chabad.org just before Shabbat in Greece.
Boruch Taub is survived by his wife, Shoshana and their five children. The funeral will be held on Jan. 22 at Berkowitz-Kumin-Bookatz Memorial Chapel in Cleveland Heights.
Ben Chafetz is survived by his wife, Smadar, and their seven children. He was laid to rest in Cleveland on Jan. 20, shortly before Shabbat.