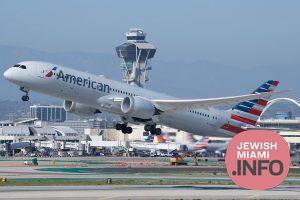 Woman Forces London-bound Plane Back to Miami After Refusing to Mask Up
An airplane on its way from Miami to London turned around mid-flight and went back to Florida after a woman in first class refused to mask up, officials said.
American Airlines flight 38 aborted its planned international trip as it flew above the Atlantic Ocean about an hour-and-a-half after taking off on Wednesday just before 8 p.m., according to reports and flight tracking site Flightaware.
Airline spokeswoman Laura Masvidal confirmed the incident in a statement to The Post, saying a "disruptive customer refusing to comply with the federal mask mandate" was the reason the Boeing 777 landed back at Miami International Airport.
Read More at the New York Post