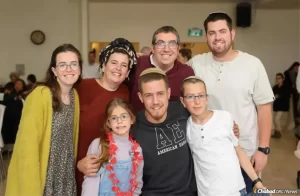 Brothers Hillel Yaniv (right) and Yigal Yaniv (center) were murdered in a terror attack on Feb. 26, 2023. Photo courtesy the Yaniv family
Yeshivah Students, 22 and 19, Killed in Terror Attack on Road in Samaria
by Yaakov Ort – chabad.org
Two brothers, 22 and 19 years old, were shot dead at point-blank range while sitting in their car in a traffic jam in the town of Hawara, in Samaria, central Israel. First responders rushed them to a local hospital, but they were pronounced dead en route. A manhunt was underway to apprehend the terrorists responsible for the attack.
Hillel Menachem Yaniv, 22, had recently completed his military service in the Israeli navy and was studying in a yeshivah in Kiryat Shmona. His brother Yagel Yaakov Yaniv, 20, was a yeshivah student in Givat Olga, preparing for IDF service. They were residents of the town of Har Bracha, near Nablus.
Huwara is the only Arab town that Jewish residents of northern Samaria need to drive through to reach their homes and has been the site of several shooting attacks on motorists.
"We have a huge hole in our heart; nothing will ever fill this hole," said Esti Yaniv, the mother of the young men, in a message to the youth of Har Bracha. "Not construction, not protests, nothing. Even family celebrations will be just a Band-Aid. This hole will remain."
"But we will learn to live with it and to live with it in joy," she said. "We will continue to draw strength from you and our [other] children." She called on her sons' friends and fellow students to continue to learn Torah and serve their fellow Jews in their memory. "There are no words that can console us."