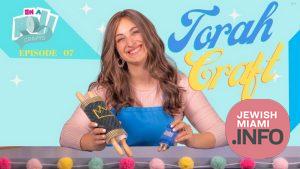 A Torah Craft With "On A Roll Crafts"
Want to create a Torah of your own? Here is a fun easy DIY craft, great for Holidays or school projects!
Link to rolling pins used in video: https://amzn.to/3Ui5dna
Mushky is a craft enthusiast and imagineer. She has been a classroom teacher for 14 years and is an adjunct professor at Sara Schenirer College. Mushky knows that students who feel loved and cared for by their teachers are able to grow and flourish academically as well as socially. Combining her love for children, education and creativity she creates a warm, enriching and safe environment where children feel free to express themselves and grow to their full potential. Mushky is the proud founder of Parsha Pop Up which is used in over 50 schools and the creator of On a Roll Crafts.