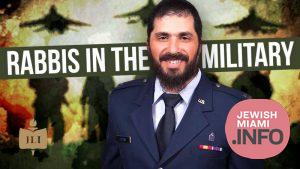 Air Force Chaplain Talks War, Faith & Morals
ear from a man who's seen humanity at both it's very best and worst.
As a Chaplain in the United States Air Force Reserve, Rabbi Elie Estrin shares an intimate tour of what people in the military face when it comes to battle. With personal experience in advocating and counseling, hear about the lessons he's learned, as well as the ones that might resonate with you too.
In his civilian position, he serves as the Military Personnel Liaison for the Aleph Institute, in which he advocates for and sends supplies to Jews in uniform across all branches and components. He is also the Chief Editor of the Jewish-American Warrior bi-monthly magazine, and he and his wife, Chaya, are co-authors of a medical memoir titled "Of Medicine, Miracles, and Mindsets." The Estrins are the proud parents of six children, and they live in North Miami Beach, Florida. –
Subscribe to our channel for more of the best Jewish video content on YouTube.
The Rohr Jewish Learning Institute (JLI) has the largest collection of Jewish media content. Our exclusive videos range from Torah insights to the most hotly debated contemporary topics.