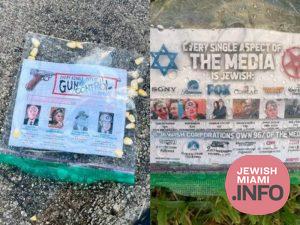 Flyers distributed by the Goyim Defense League in June of 2022.
Anti-Semitic Flyers Found Outside Their Homes Disturb Boca Residents
by JewishMiami.info
Anti-Semitic flyers scatters outside homes in Boca Raton are causing discomfort after residents came outside Tuesday morning to find them distributed on their lawns.
"Antisemitism came to our backyard last night as these were left in driveways around our neighborhood," Rabbi Efrem Goldberg of Boca Raton Synagogue posted on Facebook. "Never think this growing danger won't find you. The Goyim Defense League who produced these are others must be stopped and held accountable."
The starkly anti-Semitic flyers, which depict Jews as controlling the media, Disney, and Gun Control, were distributed in small Sandwich sized Ziplock bags, and weighed down with what appeared to be kernels of corn.
The methods of this distribution mimics others seen by the Goyim Defense League, a small network of virulently antisemitic provocateurs who promote antisemitic videos online. A nearly identical incident also attributed to the same organization, targeted Miami Beach in January of this year, spreading vile claims that COVID was orchestrated by Jews.
Reports by residents at the time match the methods used then, primarily the packaging of the pamphlets and thew fact that they distributed them by throwing them out a car window, according to reports.
The incident is being investigated by the Palm Beach Sherriff's Office.