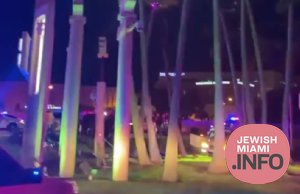 Armed Carjacking Ends in Wreck by Miami Beach Welcome Sign
by JewishMiami.info
It has got to be the worst possible welcome for visitors of Miami Beach.
An armed carjacking that took police officers on a high speed chase down the I-95 ended at the welcome sign to Miami Beach when the car wrecked up against a tree.
According to reports, officers responding to reports of a carjacking found two vehicles at the scene, the car took off and the police pursued.
According to WSVN, after the car came to it's crashing halt, the man complained of injuries and was transported to Mt Sinai Hospital.