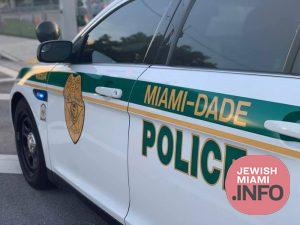 UPDATED: Miami-Dade Police Officer In Critical ConditionAfter Being Shot While on Duty
by JewishMiami.info
A Miami-Dade Police officer is in critical condition Monday night after being shot by a suspect while on duty in MDPD's Robbery Intervention Detail.
According to preliminary reports, the incident occurred near the intersection of Northwest 62nd Street and 17th Avenue where the suspect opened fire on the officer. He was rushed to JMH Ryder Trauma Center in Miami where he was said to be in critical condition.
This story is developing and will be updated as information becomes available.
Update: The suspect was shot during the altercation and is in police custody.
Update: A third person has also been shot at the location.
Update: The suspect has died, according to reports.
Officer, Suspect Critically Wounded After Little Haiti Gunfire Exchange @CitizenApp

I-95 Express Ln & NW 62nd St 8:57:17 PM EDT