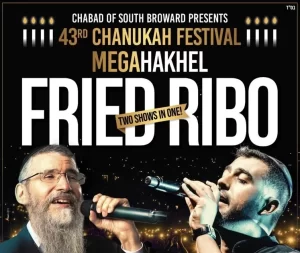 Chabad South Broward Chanukah Festival Main Seating Sells Out
by JewishMiami.info
Management at the massive 7,000 seat concert hall at Hard Rock theater in Hollywood, FL, have expressed surprise by the speed at which tickets sold out for the Chabad concert to be held there on Chanukah, featuring Ishay Ribo and Avraham Fried, saying they have never seen tickets sell this fast for any event.
According to organizers, many from around the country will attend including from New York, New Jersey, California, and from all over Florida. Numerous families are flying in from overseas as well.
The event host, Rabbi Raphael Tennenhaus, told JewishMiami.info that, "when we started doing this event 42 years ago, the crowds were mostly local retirees, Holocaust Survivors, who would show up hours in advance with cushions. The first time we hosted Avraham Fried, in the late 90's, he commented that our musical arrangement, which consisted of a one man band keyboard, was basically fit for a Bar Mitzvah boy."
"The Rebbe gave us a Brachah the event should keep growing every year, like the candles are added to the Menorah every night of Chanukah," Rabbu Tennenhaus explained. "We have indeed merited to see the fulfillment of the Rebbe's Brachah beyond our wildest imaginations."
"The effects of the event have been unbelievable – what I call a true "Neshamah opener". We're talking about people attending who don't even come to Shul on Yom Kippur," he said. "Inspired by the event, people have enrolled their children in Hebrew day schools, people have become Shomer Shabbos, or even became complete Ba'alei Tshuvah, and or made Aliyah , after first being inspired by our Chanukah Festival."
Rabbi and Mrs. Raphael and Goldie Tennenhaus are the first shluchim in Broward County, as they arrived in 1980. The Chanukah Festival was held at Young Circle, in downtown Hollywood, up until 2004. For several years, it was held at a high school football stadium in Hollywood.
"From the beginning, elected officials wanted to attend – congressmen, mayors, commissioners, and a few years ago the Governor himself, Rick Scott. Since 1980, we have invited some 40-50 elected officials every year."
From 2007 – 2019 it was held at Gulfstream, and in 2020 – 2021 it was held at The Big Easy.
"Covid was interesting. Actually, instead of going virtual like we thought we'd have to, we hosted the events in a massive parking lot that held 4,000-5,000 cars and people participated from their cars in a safe way."
In the early years, the only children at the Chanukah Festival were the Tennenhaus children and a few children from Miami Beach.
"This year we have gone bigger than ever by leaps and bounds. It's the first time we've had to charge, just so that we could cover the event with costs being triple what we usually incur. Even so, it's clear that many won't be able to attend as tickets have basically sold out."
Unlike in the past years, where there has been an option to have free seating, this year it was not possible. This venue requires every seat to be paid . However there are also benefits from having the Chanukah Festival at a more structured venue, where people are more likely to come on time. There will be a large police force overseeing security and decorum. In addition, Seminole Fire Department will be overseeing the menorah lighting ceremony to ensure safety. These extra measures will result in a smooth running concert.
Many sections were made very affordable, and sponsors have enabled many teachers and educators to attend the Festival. Huge discounts were offered to Chai Lifeline and other organizations.
The fact that it's a Hakhel year, people want to participate in huge gatherings. This is the most opportune moment, because it's Chanukah. This yearly event not only inspires the unaffiliated to become more observant, rather Chassidus emphasizes that even the most observant have to grow, maalin bakodesh. Everyone attending is inspired to take their Yiddshkeit to the next level.
Despite the sellout, a few private suites have opened, and several couch seats are available.
"We are proud to have Dovid Weinbaum of DW Productions to produce this event. Dovid has produced massive events around the world. He's really taken the whole Chanukah Festival to the next level."
Contact mordyfeiner@gmail.com if you would like to sponsor a suite with 18 seats, or if you would like to buy a couch seat – the best seats in the house!
Excitement is building for this year's 43rd Annual Chanukah Festival, sure to be the most amazing, inspirational and sensational concert yet!
To be a sponsor or VIP of the Chanukah Festival, and to check if any cancellations have opened up seats to the public, please log on to :