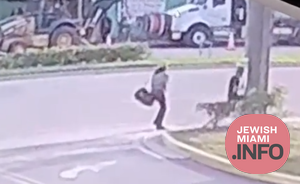 Detectives Seek Public's Help In Violent Anti-Semitic Attack In Dania Beach
by JewishMiami.info
Detectives with the Broward Sheriff's Office Violent Crimes Unit are seeking the public's help to locate an individual involved in a vicious anti-Semitic attack in Dania Beach.
According to investigators, the crime occurred at approximately 5:30 p.m. on Tuesday, Feb. 7th, near the 2400 block of Stirling Road in Dania Beach. The victim told detectives he was riding his bicycle and talking on the phone in Hebrew when an unknown subject hurled an anti-Semitic slur at the victim before assaulting him.
Surveillance video of the incident shows a male subject wearing a yellow beanie, an open black and white plaid button-down shirt with a blue shirt underneath and black pants punching the victim in the face. The strike caused the victim to fall off the bike and to the ground. The attacker then approached the victim, who stood up. A few seconds later, the subject walked away. The attacker is then seen getting into a verbal altercation with several workers in the area who witnessed the assault, but he eventually left.
Detectives say the victim suffered multiple injuries as a result of the attack and was hospitalized.
Anyone with information on the subject's identity and or whereabouts is asked to contact BSO Violent Crimes Det. Lacey Fitzpatrick at 954-321-4200 or submit a tip through the SaferWatch App. If you wish to remain anonymous, please contact Broward Crime Stoppers at 954-493-TIPS (8477), online at browardcrimestoppers.org, or dial **TIPS (8477) from any cellphone in the United States.