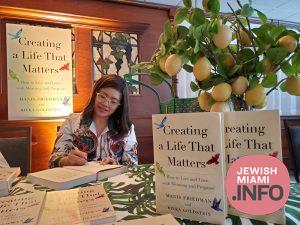 Farbrengen and Book Signing For Yud Shvat at Chabad of Hallandale Beach
by JewishMiami.info
The Yud Shvat farbrengen at Chabad of Hallandale Beach was a dual affair, with invigorating speakers and book signing.
Rabbi Manis Friedman, a famed author and lecturer, was on hand to farbreng for five hours with the attendees for the 72nd Anniversary of the Hilulah of the previous Lubavitcher Rebbe, and the ascent to leadership of the Rebbe.
"Rabbi Friedman was on fire," Rabbi Tennenhaus of Chabad of Hallandale Beach said.
The farbrengen was preceded by a book signing event for Rabbi Friedman and co-author Rivka Goldstein's bestselling book "Creating Life that Matters".