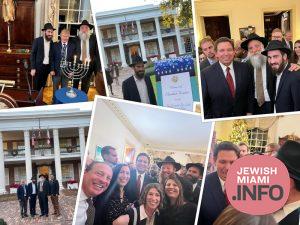 Florida Governor Hosts Chanukah Party At Governor's Mansion
byJewishMiami.info
Florida Governor Ron DeSantis and the First Lady Casey DeSantis held an Exclusive Chanukah Reception for the second night of Chanukah by invite only to Jewish leaders a business figures.
Chabad Lubavitch was represented by Shluchim Rabbi Schneur Oirechman of Tallahassee as well as his Children Ari and Sholom, Rabbi Yitzchok Minkowicz and Rabbi Peretz Meir Simcha Minkowicz Shluchim of Southwest Florida, Rabbi Nochum Kurinsky of Chabad of the Beaches, and Rabbi Pinchas Taylor of Plantation, Florida.
David Milstein Advisor for Jewish outreach on Governor DeSantis' re-election campaign, The Consulate General of Israel In Miami Maor Elbaz-Starinsky, Leaders of Hatzalah, and leaders of Agudat Israel were in attendance as well.
Before the Ceremony began there was a Minyan for Mincha in the beautiful outdoor Garden on the governors Mansion, followed by the ceremonial lighting of the Menorah
The Menorah lighting itself was done by Family of the victims of the Surfside Tower Collapse.
There was a Glatt Kosher meal provided for all in attendance.