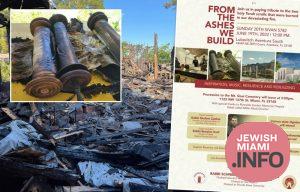 LIVE at 12:00PM: From Ashes, a Joyous Fire of Rebirth As New Sefer Torah To Begin For Tallahassee Chabad
Aventura, Florida — Chabad never gives up.
Faced with a devastating fire that destroyed its entire building, including two sacred Torah scrolls, Chabad-Lubavitch of Tallahassee and the Florida Panhandle—and the thousands of Jewish FSU students from across Florida it's served over the years—could have despaired.
But in another sign of the indefatigable hope and optimism that is Chabad, hundreds of Chabad leaders and community members will be gathering in Aventura, Florida on Sunday, June 19th at 12:00 p.m.to recharge and reinvigorate for the future.
They'll be doing so in upbeat Chabad-style: by first penning the opening letters of a brand-new Torah scroll.
Speakers to follow include Florida Secretary of Agriculture Nikki Fried, herself a proud participant in Chabad of Tallahassee's Jewish community life; Rabbi Benzion Korf, Director of Chabad of Florida State; and Rabbi Shalom D. Lipskar, founder and spiritual leader of The Shul of Bal Harbour. A representative of the State of Israel will also attend. Cantor Aryeh Hurwitz will sing several traditional renditions.
The assembly will conclude with the trappings of a funeral procession and burial, given the mandate under halachah (Jewish law) to inter a destroyed Torah scroll in the earth, with many of the last respects granted human beings.
But from that somber moment, it will be only upward and onward.
"The Lubavitcher Rebbe, Rabbi Menachem M. Schneersohn, of righteous memory, always taught us that we must fight darkness with light," says Rabbi Schneur Z. Oirechman, Director of Chabad of Tallahassee. "Especially when the darkness itself is a fire, the message is that we must doubly increase with the light of Torah and mitzvos."
For more information and to donate, please visit FLJewishCapitolRebuild.com or call 850-251-0207.