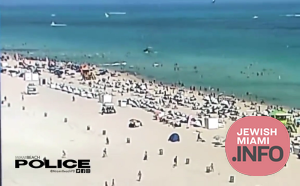 Helicopter Crashed Into Ocean Just Feet From South Beach Swimmers
by JewishMiami.info
A helicopter crashed into the Ocean just feet from swimmers at a crowded South Beach area Saturday afternoon, injuring two.
According to Miami Beach police, they received an emergency call around 1:10pm regarding a helicopter that had crashed into the Ocean near 10th Street.
Emergency responders arrived and transported two out of the the helicopters three passengers to Jackson Memorial Hospital in stable condition.
The beach area between 9th and 11th Street was closed off as the police and FAA investigated.