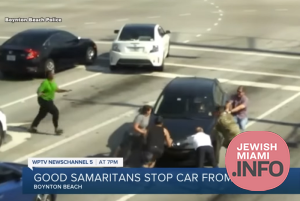 Heroic Bystanders Rush To Save Woman In Car in Boynton Beach
The Boynton Beach Police Department has published a video showing a group of heroic bystanders as they rush to aid a woman suffering from a medical episode.
The video shows the moment a group of drivers in Boynton Beach jump into action to save the elderly woman slumped over her steering wheel as her car rolled through a busy intersection.
Some of he bystanders jump in front of the vehicle to stop it from rolling as others break a window to get inside and assist the woman.
"We have been in touch with several of the Good Samaritans and will be honoring them/reuniting them with the woman they rescued tomorrow afternoon," Boynton Beach Police Department said in a statement.