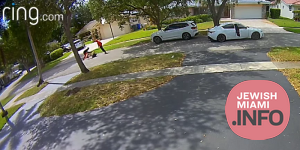 Hollywood City Commissioner Responds To Friday Carjacking
Hollywood City Commissioner Adam Gruber responded to Friday's violent carjacking in Emerald Hills with a letter to the community.
Hi Everyone,
Like many of you, I was horrified to see the video on Friday of an elderly gentleman getting carjacked in broad daylight in our neighborhood . As City Commissioner of this area, I feel one of the most important, if not the most important thing to me, is that our residents are safe, and that they feel safe. I have had discussions with our Hollywood Police Department about last week's situation and I am confident that they are all over this investigation and will bring these perpetrators to justice.
This Thursday, from 5:30PM – 6:30PM, HPD will have a representative at the Clubhouse at the Emerald Hills Golf Course – 4100 North Hills Drive. The purpose of this will be to address some of the recent criminal activity in Emerald Hills, offer information if available and able to be released, provide safety tips and offer a Q and A for concerned residents. If you aren't able to attend and have any questions or concerns, feel free to email me any time at Agruber@hollywoodfl.org.