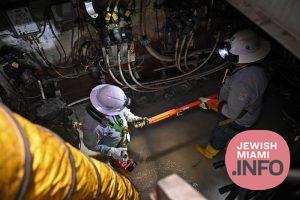 Ian's Damage Is So Extensive That FPL Says They Must Rebuild, Not Repair
by JewishMiami.info
Two Million people lost power as Hurricane Ian tore through the center of the State of Florida this week. The human cost is terrible at any number, and the loss of infrastructure is staggering.
"As it's safe to do so, we will continue to assess damage and restore power with a total workforce of more than 20,000, including mutual assistance from 30 states," FPL wrote. "This storm has been life-altering for many, with homes and businesses being significantly damaged or destroyed."
Hurricane Ian, which made landfall as a category 4, caused such extensive damage through flying debris, falling trees, tornadoes, life-threatening storm surge and flooding, that FPL recognized that "we will need to rebuild – rather than repair – parts of the electric system".
In a message to customers, FPL warned that restoration of power may not be possible to even existing structures.
"We urge you to keep safety at the forefront of everything you do," they wrote. "These dangerous conditions could last for several days, even after the storm has passed. Stay far away from downed power lines, flooding and debris. Remember to keep generators outside and well away from open windows to prevent dangerous fumes from entering your home or a neighbor's home."
For those structures that can have power returned, a date for that is also not easily reached.
"We understand customers who lose power want to know when it will be restored. Outside of Southwest Florida, we will aim to provide restoration estimates approximately 24 hours after the storm has cleared an area. Rest assured, we are working around the clock to restore power to all customers safely and as quickly as possible."