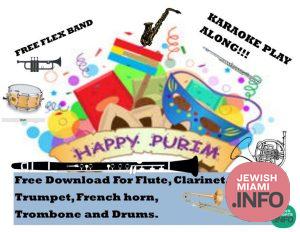 Jewish Band Music – Free Adar Music for the Young Musician
So you want to be part of the band?
Here is a piece that young musicians will enjoy based on Chag Purim.
The video linked below starts with all three parts so the listener can hear the tune in its entirety. After that the video continues with different parts left out so you can play along like Karaoke.
Even though the video is in bass clef for the trombone, a Free Download For Flute, Clarinet, Sax, Trumpet, French horn, Trombone and Drums can be found on Rabbi Cowen's Youtube under Beginning Band Songs!
This 3 Part arrangement of the Traditional Song "Chag Purim" can be used homogeneously or mix and match with other instruments or even as a FLEX BAND.
Rabbi Yitzchak Cowen is an instrumental music specialist teacher with the Pittsburg Public Schools for the past 20 years. In addition Rabbi Cowen has played with the Detroit Symphony Orchestra and has performed and recorded with many popular Jewish bands.
Flex Band
Demo