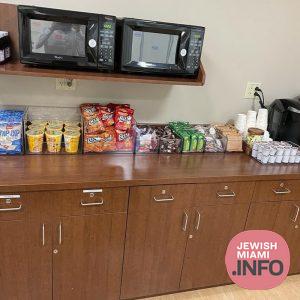 Kosher Room In Aventura Hospital Reopened
by JewishMiami.info
On the 7th floor of Aventura Hospital, a gem for the Jewish community of South Florida has reopened.
A partnership between Healing Hearts Florida and Chabad of Aventura has allowed the relaunch of the Kosher room in Aventura hospital, providing full meals to the many patients and family members who find themselves in need.
Run by Rabbi Yochanan Klein, Healing Hearts is a comprehensive chessed organization that provides assistance to patients and their families as they medical emergencies arise. The organization recently announced the opening of a new Chessed House in Miami Beach, adding another location to their available Chessed homes.
The new Kosher room in Aventura Hospital will be stocked with fresh and nutritious food restocked weekly on Mondays and Fridays.
Healing Hearts is also equipped to help with medical referrals and patient advocacy. Call 305-676-HEAL if you need assistance.
To donate to Healing Hearts: Click Here