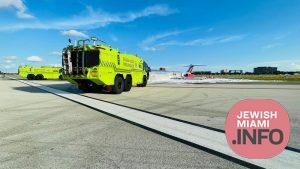 Landing Gear Failure at Miami International Airport Causes Fire on Runway
by JewishMiami.info
A Red Air flight from Santo Damingo suffered a landing gear malfunction during landing a Miami International Airport, leading to a fire and minor injuries.
Red Air Flight #203 landed Tuesday evening during which the landing gear by the nose of the plane collapsed, sparking a fire.
Miami Dade Fire responded, extinguishing the blaze in a display seen from the nearby highways, and treating three people for minor injuries. They were transported to local area hospitals.
Some flights became delayed over the incident.