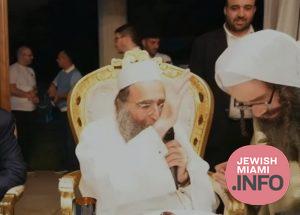 Lev Tahor Leadership Spotted Visiting Rav Yoshiyahu Yosef Pinto in Morocco
Lev Tahor survivors are expressing alarm after Lev Tahor spokesperson and fundraiser Uriel Goldman was seen last Motzei Shabbos visiting influential Sephardic Rabbi Yoshiyahu Pinto.
Goldman, a leading member of Lev Tahor's "Hanhala" and one of the few not currently sitting in prison, was accompanied by cult member Nissim Yehoshia Malka. Following Rav Pinto's Motzei Shabbos Parshas Korach Shiur on June 25, Shirayim was handed to followers. The duo were among those to receive food from Rav Pinto's hand. Both received a Bracha as well.
Cult experts suspect that Lev Tahor may be trying to work with Rav Pinto and the Moroccan government in an attempt to immigrate and build a new compound in a country where there is less scrutiny than their previous locations.
Lev Tahor started in Israel. When child abuse allegations surfaced against the cult, they moved to New York. After former leader Shlomo Helbrans was convicted for kidnapping a 13-year-old boy, they settled in Ste Agathe, Quebec. When child protective services began investigating allegations of abuse, they fled to Chatham, Ontario and from there to Guatemala where they built their "Buvel" compound in a remote area within the central American country.
In the aftermath of several raids on Buvel by Guatemalan, American, and Mexican authorities, the cult has been seeking a new home, preferably in a country with weaker ties to the west.
Their current "Rebbe" and leader Nachman Helbrans, is in middle of serving a 12 year sentence for kidnapping and sex trafficking crimes. Other members of Lev Tahor are also behind bars or awaiting sentencing.
"Lev Tahor has a history of running from their host country and leaving a trail of traumatized survivors and negative media attention any time they are investigated for allegations of child abuse," said Yechiel,* a spokesperson for LevTahorSurvivors.com. "We urge Rav Pinto to inform his followers that they should not support Uriel Goldman and the Lev Tahor cult in any way."

Lev Tahor visiting Rav Pinto
Exposing Uriel Goldman as Lev Tahor's mastermind